There is a saying (perhaps apocryphal), "Every technology seems magical…until it transforms into a consumer appliance". In other words, what elicits cries of astonishment when introduced (Say, the light bulb, elevator, telephone, television…and lately, the internet) ultimately blends into quotidian activities, when adopted by the masses.
What transpired with consumer electronics has now transcended into the realm of finance in general and personal finance in particular. Today, the word 'technology' is more synonymous with convenience and comfort rather than fear or dread. Algorithms which at one time seemed arcane have entrenched themselves so intimately into our lives that we now wonder how we did without them all these years.
This has a few obvious advantages:
Information for one and all:

Today, merely having access to information is no longer considered an edge. We are swamped with data of all hues, in every medium possible (print, electronic, mass media, and so on). Besides, regulatory improvements have led to a quantum leap in disclosures leading to

better quality of data

too. This has certainly levelled the playing field for investors.
Move your fingers, not your feet:

When was the last time you waited in a line to withdraw cash at a bank or at your electricity company's office to pay your latest bill? Today, whether it is utility bill payments, stock-trading, banking or payment of insurance premia, we first think of the online option. Improved internet speeds and the advent of Progressive Web Apps. have accelerated this trend. Other developments like

fingerprint log-ins, Face ID and 4 digit Mobile PINs

(especially in banking Apps) in lieu of lengthy passwords have also helped increase adoption.
'Unfriending' intermediaries:

Apart from better information flow, users are helped by the fact that many product manufacturers, such as

mutual funds,

can reach out directly

to their end-users through

cost-effective options like the Direct Plan.

While this has fostered a feeling of insecurity among intermediaries, well-informed consumers are jubilant. Even the I

ncome Tax department

has made it mandatory to file returns online, for certain categories. Their easy-to-use interface has released many ordinary taxpayers from the clutches of 'tax-filing' agents who, for too long, were masquerading as 'tax consultants'.
Plummeting  costs:

While technology has enabled product providers to reach out to many more prospects, it has also enabled them to lower their cost of operations. These savings have often been passed on to consumers. Besides, the availability of good-quality off-the-shelf technology solutions has resulted in

lower entry barriers.

This has also reduced the pricing power of the providers, and further benefited consumers.
New product categories:

A decade ago, nobody would have ever dreamt that an insurance plan could be offered online. However, today,

Online Term Plans

are the fastest growing product category for several insurance companies.
The onset of Aadhar has spurred banks to launch 'Web-only' Bank Accounts – Digibank by DBS and 811 by Kotak Bank are two cases in point. Here an Account can be opened within a matter of minutes. Here, the bank can pass on the savings which occur on account of lower set-up and maintenance costs, by offering higher interest rates to depositors, that too without any 'minimum balance' stipulation.
Also, money can often be switched from a bank savings account offering 3.50 – 4 per cent p.a. to the same bank's fixed deposit offering 7-8 per cent p.a. in a jiffy, with a mere click.
Even a stodgy product like the Public Provident Fund (PPF) can be subscribed to, online. No more dealing with officious bank clerks anymore, nor having to worry about a misplaced comma or full-stop on the application form.
There are a couple of marquee cases where technology has a role to play in the case of illiquid / expensive / exotic assets:
The use of Infrared Reflectography in the case of

assessing the provenance

of an alternative asset / collectible

like 'Salvatore Mundi', the painting by Leonardo Da Vinci, which was auctioned last November for 450 million USD.
Amazon partnering with Tata Housing to

sell luxury homes

costing upward of Rs. 75 lakhs online in January 2016.
However, while such applications are exciting they are not really relevant to most consumers.
Hence I would like to restrict myself to only three traditional areas where technology is causing ructions:
Payments and Lending

Investments

General Insurance
Payments:
Just a decade or so ago, cheque payments were ubiquitous, despite their lacunae like high counterparty risk and long lead times for receiving credit. Today, with the advent of an alphabet soup of fund transfer options viz. NEFT, RTGS and IMPS 24*7, cheque leaves are gradually losing their pre-eminent position.
It may only be mildly hyperbolic to say that cheques are headed the way of the Dodo. One sign of this is that a recent unsubstantiated rumour of cheques being banned, barely caused a flutter in the stock market. In the olden days, this would have been viewed as a seismic event.
E-commerce companies are hoping that the steady growth of online payments – through netbanking, captive e-wallets and credit / debit cards – will lead to fewer customers relying on the Cash On Delivery (COD) option. While this has yet to play out completely, it is heartening to see that the share of COD in Tier 2 and 3 cities is falling
However, even the traditional methods of cashless payments are likely to be overshadowed by an impending explosion in new modes of digital / peer-to-peer (P2P) payments, as is already happening in China through apps. such as WeChat and is slated to catch on in India too via WhatsApp.
While this trend began with the launch of e-wallets like Mobikwik and Paytm, it has actually taken off after the introduction of the Unified Payments Interface (UPI) platform as well as other new-age modes like QR Codes (BharatQR), Aadhar Enabled Payment Systems and contactless payments (Apple Pay / Android Pay). Blockchain based options may not be far behind, too.
Many providers (including Google and Amazon) have clambered onto this bandwagon and created Apps/wallets, which enable users to use the UPI layer to often bypass their bank's portal while making payments. In an era where the most recent platitude is 'Data Is the New Oil', there is a clear and present danger of banks & credit card companies being reduced to 'dumb pipes' whom clients use merely as a conduit to refill their e-wallets but fail to get access to essential information on how that money is spent by their clients thereafter. That information will reside with certain Apps. (Uber / Book My Show) / e-wallets (Paytm) / e-commerce companies (Amazon / Flipkart).
For instance, imagine an entire Citibank Credit Card Statement containing details of payments to just three providers viz. Amazon, Book My Show and Uber. While the bank does earn commissions on these transactions, it has no clue as to where that money has actually been spent within these three Apps. That key data now lies within these three apps. and can be monetised by them in various ways.
Though most banks have created their own wallets (Pockets / PayZapp) in order to keep their clients within their ecosystem and battle the fintech. upstarts, they have only been partly successful, as many of these wallets lie
dormant within the smartphones of users. Strong network effects will mean that only a couple of large e-wallets
will survive and thrive, with the others either being taken over or shutting down.
The accompanying graphic (though slightly dated) depicts a few secular trends in the e-payments arena. These trends have only accelerated since then: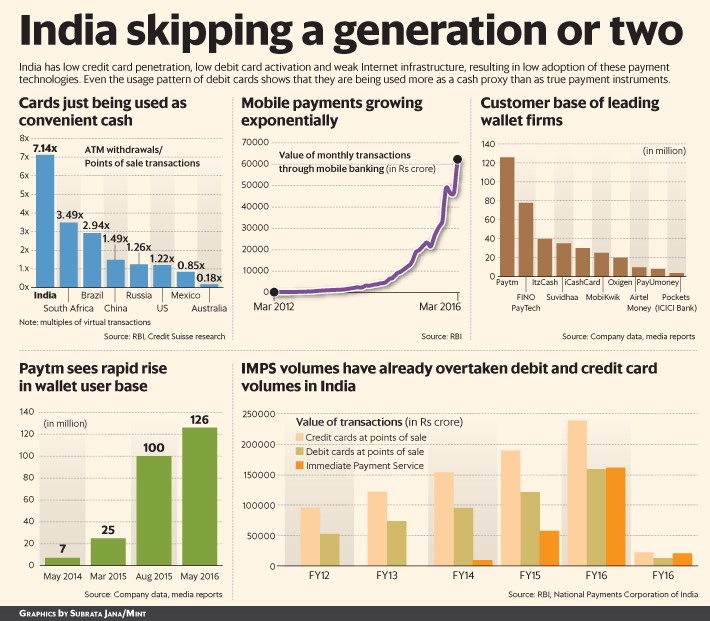 Sources: RBI, NPCI, LiveMint
Lending
Technology has also been instrumental in the blossoming of new modes of lending / funding such as micro-lending (Billionloans), Pay Later Apps. (Citrus LazyPay), short-term payday loans (EarlySalary) crowdfunding (Impactguru and Milaap) and P2P lending marketplaces (I-Lend and Lendbox).
They help savers channelise their money into a relatively higher yield (albeit riskier) avenue of providing bridge finance / short-term loans to individuals and Small & Medium Enterprises (SMEs), who otherwise may have been denied access to money markets.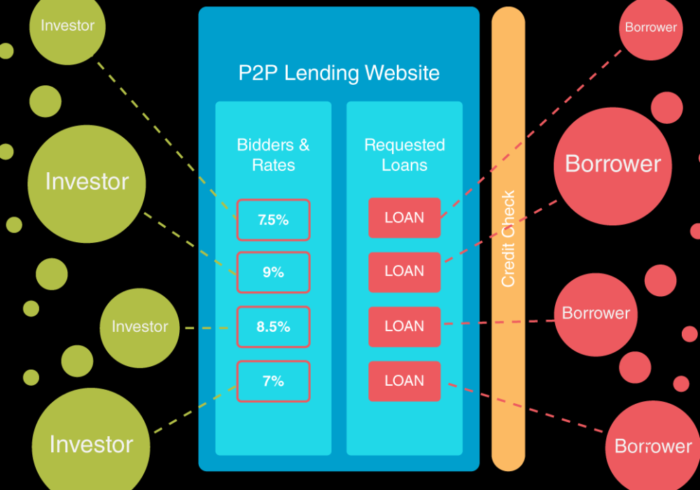 Image Source : https://www.stratinfotech.com/banking_software/images/P2P-lending-model.png
Big Data and Artificial Intelligence techniques are used to glean through diffused, novel and unrelated data points such as social media interactions, SMS history etc. and arrive at proxy credit scores to gauge creditworthiness.
These techniques are now being employed by Microfinance Institutions (MFIs) to borrowers from lower strata as well. They have helped to expand the market by catering to segments which was ignored by banks due to systemic and infrastructural limitations.
Investments:
While stock-trading portals are old hat, with most of them being reduced to mere commodities, rapid improvement in data-crunching prowess is also threatening to upend the mutual fund advisory profession. Today, financial planners have to contend with robo-advisors who purport to offer bespoke solutions, often at rock-bottom rates. Scripbox and ProsperX are two such portals engaged in offering automated advice on mutual
fund portfolios. While the human touch has not (yet) completely disappeared, advisors will be increasingly hard-pressed to justify the fees that they charge.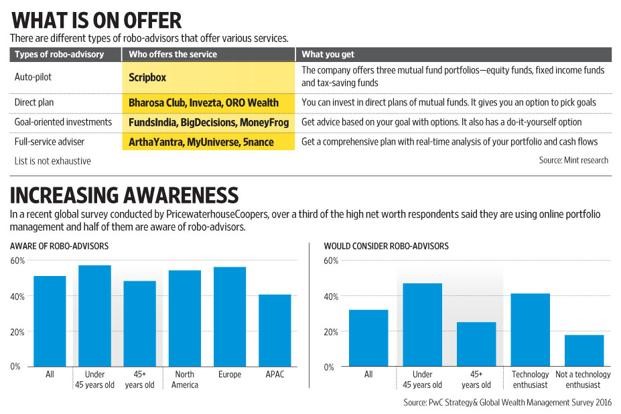 LiveMint (June 20, 2016)  (Slightly dated Chart. However, it is still relevant as it succinctly depicts the trend)
Insurance:
While even the biggest sceptics have admitted that online Term insurance is a pugnacious challenger to traditional life insurance policies, inexorable advances in analytics and computing power will impact the general insurance sector too. Auto, health and accident insurance premia can be customised for each applicant based on their individual traits and behavioural tendencies (such as driving patterns, food choices, etc.) This is far more nuanced than the current monolithic system of determining premia based on standard factors like age, the type of vehicle, etc.
This system will reward those who are willing to share their data (either directly or through certain accredited agencies) and help in pricing risk more appropriately, thereby reducing the possibility of adverse selection.
Bengalaru based Digit General Insurance aims to be a pioneer in this segment in India. It is also squarely aimed at those who prefer to purchase insurance digitally.
While most of us would agree that harnessing technology can confer great advantages, there is a flip side to it too.
A few disadvantages of being overly reliant on technology are:
Loss of personal touch:

In the days gone by, one could sort out any offline transaction related problem over a cup of tea with the neighbourhood bank manager. Today, to resolve any issue pertaining to online transactions we have to either navigate our way through a series of

seemingly interminable Interactive Voice Response (IVR) instructions

or deal with chatbots or call centre personnel operating from some remote corner of the country / the world. In other words,

technology is wonderful as long as you do not encounter any glitch.
Security issues:

Nowadays all companies reassure us that they have robust security systems for their transactional portals. However, there is another kind of threat which they can do little to avert: Today our

life is governed by myriad passwords.

As remembering all of them is not easy, many of us tend to note it down somewhere. This can pose a threat if it falls into wrong hands.
Data loss:

Data may also be lost or compromised due to fraud which takes place at the service provider's end. Hence, it is prudent to maintain some physical record of the details of one's financial assets.
More is not always better:

It is moot whether the recent information explosion has given birth to a more evolved consumer, whether it be in the realm of insurance, investments or banking. In fact, the

profusion of data has shortened the time horizons of many investors

.
The other extreme of too much data is that we can also freeze into inaction when we come across diverse pieces of seemingly irreconcilable news.
Fat-fingered errors:

It is likely that users may

commit errors in entering data

while transferring funds or placing orders on online broking platforms. Sometimes these errors are difficult to reverse, leading to great angst.
On balance, while the personal finance landscape will be increasingly driven by technology, privacy, security and regulatory issues will be the key variables which will determine the extent of adoption.
Written by Jayant R. Pai,
Jayant is a ePGP student (2017-19) at IIM Ahmedabad