Getting Ready for Work-from-Home Internships with LSD
With majority of the internships shifting to work-from-home format in the "strange and unprecedented times" created by the Coronavirus crisis, the Literary Symposium Desk (LSD) saw an opportunity in adversity. Recognizing that presentations, a key determinant for the pre-placement offers (PPOs) for students, would fundamentally differ from the in-office ones – the club organised an online workshop on "Business Essentials for Virtual Communication".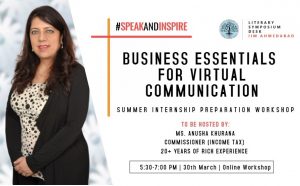 The host of the first workshop was Ms Anusha Khurana, a Director General of Income Tax department in the Indian Revenue Services. Ms Khurana sported 20+ years of public speaking experience had been an invited speaker at IIM A, IIM B, AIMA, NDIM and many other fora.
While concentrated within a 90-minute timeframe, the workshop covered industry best practices and tricks for online speaking and PowerPoint slide design. This was followed by a live evaluation of a presentation made by Ganesh Venkit (PGP1) for the audience. Finally, a question and answer ensured that students could clarify all their queries from Ms Khurana.
This was the first in the series of #SpeakAndInspire Workshop series planned by the club. The series would be undertaken by industry experts and domain leaders, covering necessary topics for personality development and critical thinking. The initiative is sure to boost up the corporate exposure on campus a notch above the previous years.